Description
A design similar to the Rob2 series has just been released. Continuing the 6D lens and powerful light output of the Rob2 series, the new Rob2 Pro uses a compact pedestal mount but is tougher looking than before. Sold in pairs. Let's see how it plays.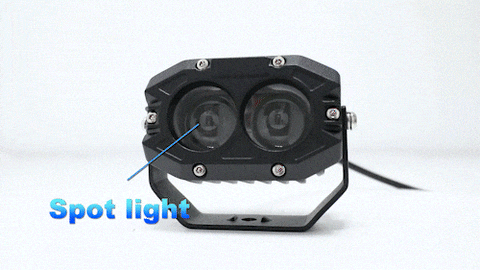 Small But Powerful: Don't let the size fool you. Only has 2 LEDs, the Rob2 Pro can offer an incredible 3,250 lumens out of a tiny 4" x 2.5" housing. That is undoubted to be the most cost-effective LED light. And it can be mounted where traditional lights would never fit. Moreover, it only draws 25 watts per light so your electrical system will barely know it's there. This LED is perfect for all your adventures! 
Unique Appearance: Similar but wilder. With the addition of a streamlined design based on the appearance of Rob2 and further anti-corrosion treatment on the shell, Rob2 Pro has a greater impact than its predecessor. It is more in line with the off-road spirit and can deal with the harsher environment completely freely. And we also have the protective cover for CO LIGHT Rob2 Pros light pods.
Tough And Durable: With an IP68-rated weatherproof, professional-grade Connector, the durable LED work light is up to the task. A black-painted aluminum housing and PMMA lens protect internal components, and an integral heat sink allows LEDs to run cool, which leads to an incredibly long life span. The light has an adjustable stainless steel mounting bracket and operates within a wide 9V-32V DC range.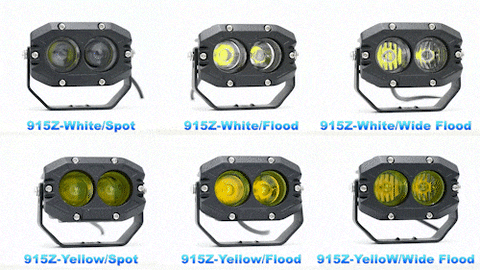 6 Light Options: Comes in 3 variations of the beam in special lens and color options, it helps you to build the perfect lighting setup for the required application. Six arbitrary combinations of white/yellow light with diffused corrugated lens/flood concave lens/spot convex lens. Each with its own field of usage whether you want to add some extra light off to the sides of the vehicle whilst driving or around the vehicle as work/camp lights.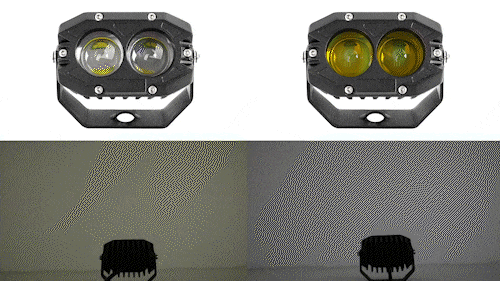 Diffused Beam:
Smooth and consistent, the Diffused Beam pattern offers an almost 160-degree beam width while maintaining intensity. Best suited to applications where powerful flood-style lighting is required. Reach 100mter at 1lux, Rob2 Pro diffused beam is great as a backup Light, utility Light, or work Light.
Flood Beam: Best suited as a semi-directional work lamp. Featuring the same Elliptical Beam reflector found in our light bars, the flood pattern offers excellent beam width and usability. Rob2 Pro Flood can reach 280m at 1lux, that's very suitable as A-pillar lights to light up the sides of the vehicle and prevent danger.
Spot Beam: The most directional beam pattern, best suited as a small driving light. Reach 1lux@370meters, the Rob2 Pro Spot beam is especially useful at higher cruising speeds where they help to identify hazards and signs.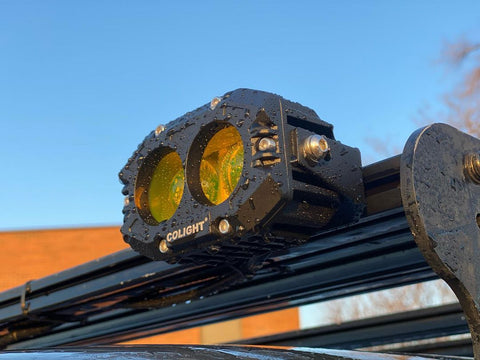 Full Set of Accessories Available: For better&safe road traffic, it is recommended to add an extra waterproof DT wire harness to control the light pods separately. When you add our DT wire harness to your cart, the whole light setup will be upgraded to waterproof.
We also offer no-drill bracket clamp holders and the custom ditch light bracket for 2010-2014 SVT Raptor, 2014-2021 Polaris RZR XP1000, 2015-2017/2017-2019 Ford F-150, 2005-2015 Toyota Tacoma, 2007-2017 Jeep Wrangler JK, 2007-2016 Toyota Fj Cruiser. It's easy to install the lights on the hood with our bracket. These two drill-free bracket clamp holders make installation more convenient, avoid damaging your car, and also ensure that the ditch light stands firmly on the hood.
You asked, we delivered. We also provide the replaceable lens for more occasion use. It's very easy to DIY the needed light pods. Click here to explore more.

SPECIFICATION:
Operating Voltage: 10-30V

Current Draw(per light): 2.20A*12V
Brightness(per light): 3250lm
Waterproof rate: IP68
Housing Color: Black
Color Temperature: 6000K/3000K
Housing Material: Die Cast Aluminum
Beam pattern Options: Spot beam/Flood beam
Lens: Corrugated Lens/Concave Lens/Convex Lens
Lens material: Polycarbonate
Mounting Bracket:

 

Adjustable Stainless Steel Side Brackets
Operating temperature: -40℃ - +80℃
Size: 4*2.5*3.3 inch
Light Distance:

 

Corrugated lens diffused light: 1lux@100m; 

 

Concave lens

 

Flood light: 1lux@280m;  

Convex lens

 

spot light: 1lux@370m
Sold in pair
What's in the package: 2pcs Rob2 pro lights, necessary bolts, and screws
If you need extra wire&switch or swappable lense, or mounting brackets, please check this collection: Rob2 Light Kit