Description
When you are cursing the glare of headlights on the opposite side of the road, when you complain that you can't see the potholes in front of you, it's time to replace your halogen H4 bulb with our mini-projector bulb. Built with Dual Mini Projector for perfect cut-off and brighter white light, this COLIGHT Y9 plus Series H4 Bulb is the perfect solution for your original reflector headlights. You can see far enough down the road to react to obstacles or avoid animals, won't blind oncoming drivers. COLIGHT has released 4 types of mini projector-led headlight bulbs, they are Y6, Y7S, Y9, and Y9 plus. Find out the best you need. Please check the blog about the difference between the bulbs here.
NOTICE: Before buying, you should realize THESE. This bulb can be only installed in the H4 reflector headlight housing without the hood, and the buckle diameter should be greater than 1.5 inches. 
PERFECT CUTOFF LINE & HIGH LUMEN OUTPUT:
In addition to your vehicle's tires and braking system, your headlights are one of the most critical safety systems on your vehicle. No matter what season it is, we need to rely on the forward lighting systems in our cars and trucks to keep us safe. Let's ignore the fact that LEDs are brighter than halogens, the proper cutoff line is a very important safety issue that is frequently underestimated.

COLIGHT Y9 plus LED headlight H4 bulb has an innovative big low beam shade cup with the dual micro-optical projector(lens) on the top, that enables the low beam to show a clear cutoff line ahead.
In a typical H4 bulb application, only about 30% of the raw lumens are projected on the road as forwarding illumination. With this special optic, about 90% of the lumens will be projected onto the road. The dual micro-optical projector(lens) is responsible for the illuminating angle and amount of the beam pattern, can reduce light loss, and maximize the light-gathering ability, making the maximum lighting length up to 240m. This feature is an unparalleled performance advantage over other H4 LED headlight bulbs, and farther than the Y6, Y7S, Y9 in the high beam output.
Thanks to the excellent circuit solutions, it requires less energy to keep cool and keep power to the LED up. Just only 33w results in 3630 lumens of high beam output and 21W results in 2310 lumens of low beam output per bulb.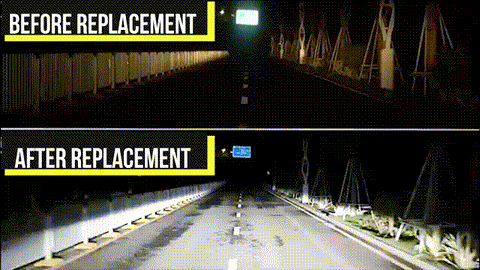 LHD/RHD SETTING:
Another advantage of the Y9 bulb is you can use it in both Right-hand-drive countries and Left-hand-drive countries. The original set is LHD mode, if you need to use the bulbs in UK or Japan, you can remove the big low beam shade cup, and you will find an iron piece engraved with L/R, flip it horizontally and assemble all the parts to get the RHD light mode. That's a 3min modding process, everyone can do that.


BETTER HEAT DISSIPATION FOR A LONG LIFESPAN:
The all-aluminum lamp body quickly transfers heat to an unparalleled pure aluminum base, which dissipates heat in seconds, maintains the operating temperature at about -40 ° C to + 80 ° C, effectively reduces light attenuation, and can reach a lifespan of 30,000 + hours.
LED CANBUS decoder has strong decoding and anti-interference ability, which can make the current more stable, does not affect radio reception, does not interfere with radio wave batteries, and keep supply to the led headlights bulb current constantly.

Before you install, you need to unscrew the bottom base, then insert the bulb in the correct orientation, fix the buckle, and finally install the bottom base. The entire process can take up to 10 minutes to complete. You can install it yourself without going to a specialist repair shop. We provide a 2-year warranty and provide quality service before, during, and after-sale.

PACKAGE INCLUDED: 2x Y9 Plus H4 LED headlight bulbs, 2x CANBUS driver
Bulbs Series: Y9 plus
Plug Type:

H4

Power(Lumens)/Set: high beam 66W/7260LM, low beam 42W/4620LM
Voltage: DC 12V-24V
Beam Pattern/(pair): 

High beam and Low beam

CANBUS Driver: Yes
Mounting Collar: Non-Adjustable
Color Temperature: 6000K white light
Heat Dissipation Mode: Fan Cooling
Installation Location: Front reflector housing headlight
Operating temperature: -40℃ - +80℃
Life Span: 30000Hrs+