Description
Improve your safety margin by increasing your ability to see as well as your being seen with our motorcycle lighting and visibility products. Built to withstand rugged outdoor conditions, this 4" 3D Series front forward light features a dual color dual beam pattern and back fan cooling system, which will serve the adventure touring rider in any situation.

The 3D series auxiliary light can emits a yellow fog beam and a white high beam from its 4inch body
Yellow Fog lights produce a 60° wide area coverage of light directly in close-range front of the motorcycle in low-visibility conditions, like foggy/rainy days.
White high beam punch light further down the road to augment headlight performance
High beams deliver 150-meter forward visibility and 50-meter wide visibility to light up the trail 
Powder-coated aluminum housing
High-impact hard-coated and anti-fog coated outer lens
Installation requires separate purchase of wire harness
Compact, Bold Design, High Lumen Output
Small Doesn't Mean Weak. Measuring approximately 4inx1.5inx2.3in, the 4inch 3D Series produces a raw 4300 Lumens at a power of 32w per light. Thanks to the high-power dual-color chip, you'll get a yellow low beam and a white high beam from the small body. Advanced TIR optics maximizes the LED's illumination, creating a smooth and uniform light beam. The white high beam pattern is ideal for long-range lighting with 60°wide area coverage. The yellow fog beam pattern works for 60° close-range front area coverage. The white high beam can be used on common days and the yellow fog beam is great for foggy/rainy days. The light outperforms traditional halogen offroad lighting solutions in both distance and output, all while fitting within a housing that doesn't look bulky and in the way.


Fan Cooling System, Long Lasting
These pod lights are IP68 waterproof rated with an aluminum housing and a polycarbonate lens.
The integrated dual fan cooling system can efficiently decrease the heat output of the LEDs and maintain safe operating temperatures in order to prolong the LED life span to its full 50,000-hour potential.

Installed as a pair, each light has a two-beam, three-lens design within durable aluminum housing. The extra hat look on the top makes the motorcycle more conspicuous. Built rugged and made to take the abuse of adventure riding, racing, dirt bikes, UTV's,  ATV's, street bikes, or whatever you can throw at them. The dual-mounts design makes these lights easy to install and a perfect fit and look on your vehicles.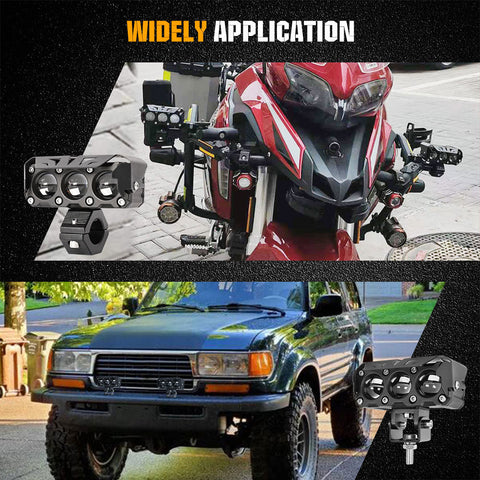 Working voltage:

DC 12-60V

3 normal wires to control the

high&low beam

High-strength aluminum alloy material
Easy Installation
Product default universal base, optional motorcycle bracket

IP68 waterproof

performance can cope with rain and snow
Color temperature:6500K/3200K

Lumen:4300lm

Power:32W

LENS: PMMA lens

Three modes: white high beam, yellow low beam, yelooe&white combo beam