Description
CO LIGHT 3" DB-P series Lamp is a dual-beam and dual-color multi-function lamp. Featuring a yellow wide beam and long-distance white SPOT beam, the DB-P series is not only an auxiliary driving light but also can be used as a fog light. We also release the white&white DB-P series. NOTE: The lengths of these two versions are different, please refer to the actual product received.
DUAL BEAM LIGHT PERFORMANCE: You may wonder what's dual-beam. A Dual Beam Lamp allows drivers to switch between wide, bright driving illumination and a spot beam able to illuminate ahead with a concentrated pattern. Then the DB-P series is such a thing.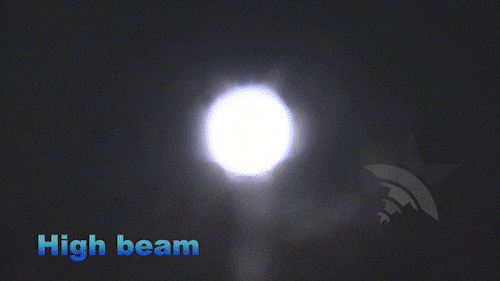 Fitted with a white 15W high power LED and a yellow 45W intensity LED chip, plus the customized upper HD spot projector and big tangent lens, this DB-P Series can illuminate approximately 750 meters ahead and the wide beam to illuminate the entire surface in front of the vehicle. The DB-P series is great for foul-weather driving and ideal for long-distance travel plus mountainous paths and rugged terrain.
MULTI-APPLICATION AND HOW TO WIRE: The 3inch DB-P series will come with folding U-shaped brackets. It's easy to install on the bumper, the hood, or the rear roof. As for the auxiliary truck lights, you can use our custom wire harness (sold separately and listed in the option) to light them up. You'll get the separate wide beam and spot beam and both white&yellow beams from them. Check the video for how to wire them up and how to control them. 
Also, you can use it as a fog lamp. How to wire it up? Take the yellow&white lamp as an example. You just need to connect the black wire(negative pole) and yellow wire(positive pole) to the fog lamp, and the black and red wire(positive pole) is generally connected to the high beam. When you turn on the fog lamp switch, you will get a yellow wide beam. When you turn on the high beam switch, you will get a white spot beam. When you turn on both the high beam and fog lamp switch, you will get both a yellow wide beam and a white spot beam. We also offer the custom/universal fog light bracket. Please check here.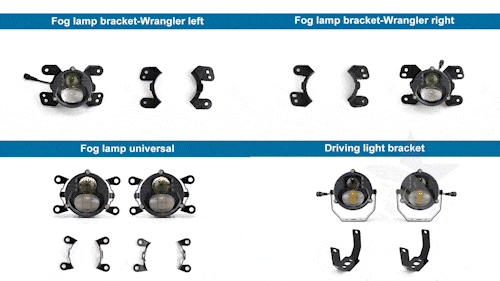 | | | | |
| --- | --- | --- | --- |
| Length/cm | Total length | From lamp to decoder | From decoder to end |
| Yellow&White Light | 120cm | 90cm | 30cm |
| White&White Light | 120cm | 90cm | 30cm |
BUILT TO LAST: Built with high-quality powder-coated carbon grey aluminum housing, the unbreakable, scratch-resistant PC lens, and the military-grade pressure equalization vent to balance the pressure and reduce condensation, these IP68-rated lights are engineered to withstand whatever you, the road, or nature can throw at them. The latest circuitry and heat sink maintain temperature balance is guaranteed to serve you for many years. With the folding U brackets in the original package, the lamp illumination angle can be adjusted to 15 degrees up or down to fine-tune the light pattern. PLEASE NOTE: please don't touch it when it's light. It becomes hot when it lights last 5mins. That's because DB-P creates a huge light output. It's not a quality problem, please buy other lights if you mind this.
SPECIFICATION:

Yellow Wide Beam: 45W/4800LM, White Spot Beam: 15W/1600LM
Current draw: wide beam: 3.72A*12.08V; Spot beam: 1.24A*12.08V
Working voltage: DC 10-30V
750m white spotlight distance
Customized HD spot projector and tangent lens

High-quality 

Carbon grey

 aluminum housing

Military-grade pressure equalization vent

Stainless steel seal
Can be used as auxiliary light and fog light
Options: Yellow&White and White&White
The package includes a pair of DB-P lamps with decoders, 2pcs brackets and screws.